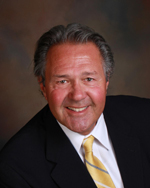 Terry D. Weiler
Berks County lawyer Terry D. Weiler, a partner in the Wyomissing law firm of Huckabee, Weiler & Levengood PC, is serving a three-year term as the Zone Two Governor on the PBA Board of Governors. Weiler represents Berks, Carbon, Lehigh, Northampton and Schuylkill county lawyers who are members of the association.
A member of the PBA House of Delegates, Weiler serves on the board of directors of the Pennsylvania Bar Foundation. He is a member of the PBA Nominating Committee and recently served on the PBA Diversity Task Force. He is a past president, vice president, secretary and treasurer of the PBA Conference of County Bar Leaders. He also served as the vice chair of the PBA Quality of Life/Balance Committee. He was a member of the PBA Professionalism and Client and Community Relations committees and served on PBA task forces dealing with governance and legislative relations issues.
Weiler is a former president and director of the Berks County Bar Association and president of the Law Foundation of Berks County. He is a member of the American Bar Association. He serves on the board of directors of the Family Guidance Center of Berks County and is a former board member of Campfire Boys and Girls of Reading-Berks County.
Weiler is a graduate of the University of Pittsburgh and the Temple University School of Law.