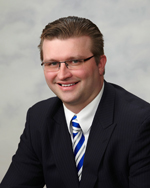 William J. Higgins Jr.
William J. Higgins Jr., Bedford County's district attorney, is serving a three-year term as Zone Eight Governor on the PBA Board of Governors. Higgins represents Blair, Bedford, Cambria, Fulton, Huntingdon, Indiana, Mifflin and Somerset county lawyers who are members of the association.
Higgins was the 2007-08 chair of the PBA YLD. From 2001 to 2005, Higgins was the PBA YLD Zone 8 chairperson. In 2010, he received the PBA YLD's Michael K. Smith Excellence in Service Award for his work with the PBA Statewide High School Mock Trial Program. From 2005 to 2008, Higgins was the statewide coordinator of the program. He has served in many roles in support of mock trial, including acting as a coach for Martinsburg's Central High School mock trial team. Higgins is the current president of the Bedford County Bar Association and is a member of the Pennsylvania District Attorneys Association.
Higgins was the 2010-12 district governor for Lions Clubs in Bedford, Blair, Fulton, Huntingdon and Mifflin counties, the 2007-08 president of the Bedford Rotary Club and the 2006-07 president of the Bedford Lions Club. Higgins also has served on the boards of Bedford County Regional Education Foundation, Downtown Bedford Inc., Junior Achievement, Personal Solutions Inc. and United Way.
Higgins is a graduate of Villanova University and the Widener University School of Law.