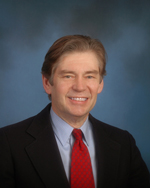 Jeffrey M. Bower
Centre County lawyer Jeffrey M. Bower of Bower Law Associates, State College, is serving a three-year term as Zone Eleven Governor on the PBA Board of Governors. Bower represents Cameron, Centre, Clearfield, Clinton, Elk and Potter county lawyers who are members of the association.
Bower is the immediate past president of the Centre County Bar Association. Bower is a current board member of the State College Rotary Club and a member and past chair of the Governmental Affairs Committee of the Chamber of Business and Industry of Centre County. Bower was chair of the Centre County Board of Commissioners from 1980 to 1988. He served for 25 years as a volunteer and member of many Easter Seals boards, including the Central Pennsylvania, Pennsylvania and National boards and as chair of the National House of Delegates from 1993 to 1995. He also served for 15 years as a member and chair of the Penn State College of the Liberal Arts Alumni Society Board and 14 years as a member and chair of the Centre Foundation board.
Bower is a graduate of The Pennsylvania State University and the Georgetown University Law Center.