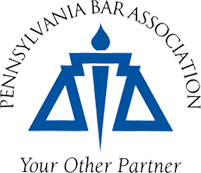 Pennsylvania Bar Insurance Fund and Trust Fund
On August 9, 1949, the Pennsylvania Bar Association entered into an Agreement and Declaration of Trust. The Trust, as amended and restated in 1966, created the Insurance and Trust Funds. The Insurance Fund was established to provide insurance plans for the Association's members and the latters' employees who desire to participate in such plans. The Trust Fund was established to promote educational and charitable activities within the legal profession and the administration of justice, particularly in the Commonwealth of Pennsylvania. The Trust states that the property comprising the Insurance Fund shall at all times be segregated from the property comprising the Trust Fund.
The Internal Revenue Service has determined that the Trust Fund is exempt from Federal income tax under Section 501(c)(3) of the Internal Revenue Code. The Insurance Fund is considered a complex trust.
PBA members can click here for further information on the Pennsylvania Bar Insurance Fund and Trust Fund.