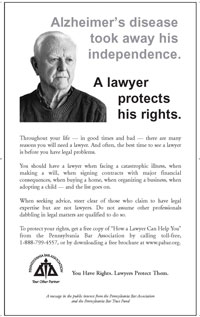 Throughout your life – in good times and bad – there are many reasons you will need a lawyer. And often, the best time to see a lawyer is before you have legal problems.
The Pennsylvania Bar Association, the Pennsylvania Bar Trust and 30 local bar associations throughout the state are participating in a public education campaign about the importance of contacting a lawyer to ensure that your rights are protected.
You should have a lawyer when making a will to plan and protect your estate, when signing contracts with major financial consequences, when buying a home, when organizing a business, when adopting a child – and the list goes on.
When seeking advice, steer clear of those who claim to have legal expertise but are not lawyers. Do not assume other professionals dabbling in legal matters are qualified to do so.
Newspaper ads encourage consumers to request a free brochure offering tips about the smart use of legal services.
The "How a Lawyer Can Help You" brochure is available online. View and print the free brochure.
Read the news release.
Read the public education campaign news article, "Elder Law: What It Means to You and Your Future."
Read and print other consumer legal information brochures.