Pennsylvania Bar Association Pro Bono Home Page
"Service is the rent we pay for living. It is not something to do in your spare time; it is the very purpose of life."
-Marion Wright Edelman, founder, Children's Defense Fund
County Pro Bono Map
Extraordinary Pro Bono Service: Lawyers Making a Difference
IOLTA (Interest on Lawyer Trust Accounts)
PBA Pro Bono-Related Committees
Pro Bono Annual Conferences and Seminars
Pro Bono Awards
Pro Bono News & Calendar
Pro Bono Resources
Pro Bono Week
SeniorLAW Pro Bono Effort
Volunteer or Donate

Pro Bono, Access to Justice Top PBA Agenda
PBA President Forest N. Myers has been speaking out about the importance of pro bono service and access to justice throughout his term, but he was especially busy during Pennsylvania Pro Bono Week 2013. The week spread well beyond the confines of its officially designated Oct. 20-26 dates as the fifth annual celebration brought events starting at the end of September and running through November across the commonwealth to celebrate the good works of pro bono lawyers while highlighting the need for support of legal aid. See all of the events at www.pabar.org/public/probono/2013nationalpbweek.asp and read the 2013 Pro Bono Week resolutions from the state House of Representatives, the state Senate and the Governor's Office
Bookend events Oct. 21 and Oct. 29 in Pittsburgh found Myers hammering home on the importance of pro bono service and access to justice. Right at the start of the official Pro Bono Week, Myers joined the national Legal Services Corp., the largest single funder of civil legal aid nationwide, at its board of directors meeting in Pittsburgh. The LSC Board presented awards to eight firms and attorneys from across Pennsylvania. Those honored were nominated for recognition by LSC recipients in Pennsylvania. The honorees included:

Mary R. Bates, nominated by Southwestern Pennsylvania Legal Services Inc.
Ronald R. Bolig, nominated by Legal Aid of Southeastern Pennsylvania
James P. DeAngelo, nominated by MidPenn Legal Services Inc.
Gregory L. Heidt, nominated by Northwestern Legal Services
Pittsburgh Pro Bono Partnership, nominated by Neighborhood Legal Services Association
Rieders, Travis, Humphrey, Harris, Waters and Waffenschmidt, nominated by North Penn Legal Services Inc.
Joseph A. Sullivan, nominated by Philadelphia Legal Assistance Center
Westmoreland Legal Foundation, nominated by Laurel Legal Services Inc.
Myers congratulated the award winners at a reception Oct. 21 at law firm K&L Gates. In addition to Myers, speakers at the event included former Pennsylvania Gov. and U.S. Attorney General Dick Thornburgh and U.S. Rep. Chaka Fattah.
Myers was back in Pittsburgh at the end of the month on Oct 29 to testify in the third and final state Senate Judiciary Committee Hearing on civil legal representation of the indigent. The PBA is among the organizations that are part of a broad-based "Civil Legal Justice Coalition" created to work collaboratively on exploring strategies to improve access to justice. The honorary chair of the coalition is Chief Justice of Pennsylvania Ronald D. Castille. Earlier hearings were held in May in Harrisburg and Philadelphia.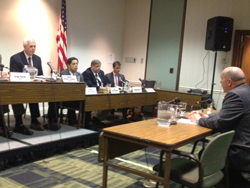 Read more about the hearings and the PBA's participation in the broad-based "Civil Legal Justice Coalition" created to work collaboratively on exploring strategies to improve access to justice. Read the report by the Columbia Law School Human Rights Clinic titled "Access to Justice: Ensuring Meaningful Access to Counsel in Civil Cases," to be filed with the UN Human Rights Committee in conjunction with its review of U.S. compliance with the International Covenant on Civil and Political Rights (ICCPR). The report explores the civil legal justice gap and recommends ways to improve access to justice in the United States.
Chief Justice on Pro Bono
In 2014, his final year as leader of the Pennsylvania Supreme Court, Chief Justice of Pennsylvania Ronald D. Castille called on every lawyer in Pennsylvania to recommit themselves to equal opportunity for all, especially in the civil justice arena. Castille issued an April 2014 letter calling on all Pennsylvania lawyers to volunteer to help the neediest among us. Read the Administrative Office of Pennsylvania Court's news release. In his letter Castille notes that the Pennsylvania Bar Association has been the court's partner in supporting civil legal aid in a variety of ways, from providing new avenues for funding to setting up a loan forgiveness program for legal services practitioners. Every lawyer in Pennsylvania contributed $35 in 2013 to civil legal aid through the IOLTA portion of the annual licensing fee, but it is the volunteer efforts — whether in direct representation of clients or further financial support — that goes beyond the mandatory payment that matter most. The Pennsylvania Legal Aid Network, in partnership with regional legal-aid providers and a network of specialty legal-aid programs, helps provide the framework and structure for legal assistance for the poor. Pro bono volunteers, encouraged by the PBA and local bars, provide time and financial contributions to help fuel the important work of representing those clients who have critical needs but cannot afford to retain private counsel. Our law schools inculcate the values of pro bono service in the next generation of Pennsylvania lawyers.
PBA Pro Bono Assistance
The Pennsylvania Bar Association's Pro Bono Office assists local bar associations, legal services programs and other groups who offer pro bono legal services across the commonwealth to expand the access to justice for the neediest among us. The Pro Bono Office also provides direct legal help to those in need, from the poor to veterans. The links above will connect you to specific information available here among the PBA pro bono Web pages. Go to PALawHELP.org if you are a client seeking pro bono services; lawyers and judges interested in pro bono should check out PAProbono.net. Click here for our partners at the ABA Standing Committee on Pro Bono & Public Service. Click here for Pennsylvania county pro bono programs. For all pro bono questions, email PBA Pro Bono Coordinator David Keller Trevaskis at david.trevaskis@pabar.org or call him on his cell at 717-571-7414.
Trevaskis has served as the PBA's first full-time pro bono attorney since 2001. In the 12 years since then some impressive numbers have been posted through the PBA's in-house pro bono efforts, including outreach that has touched almost 60,000 people with legal aid issues; more than 400 individuals and organizations being honored with pro bono awards; nearly 250 CLE programs having been conducted locally, regionally and across the state; and the securing of more than $500,000 in direct and in-kind support. Add in nearly three-quarters-of-a-million miles of travel and there has been a lot of activity out of an office that is staffed by a single full-time attorney and a half-time administrative assistant.
Although there was pro bono activity sponsored by the PBA prior to the October 2001[1], with the hiring of attorney Trevaskis as the PBA's first full-time pro bono coordinator pro bono received an increased emphasis at the PBA, with the formal creation, staffing and budgeting of a Pro Bono Office. The office was created to meet the crisis of unmet civil legal needs among the poor in Pennsylvania and throughout the nation. The defining principle of our legal system is the promise of equal justice under law for all, yet, despite all of the efforts of the PBA and the thousands of lawyers and judges statewide who take pro bono cases and support legal aid, far too many of the poor and near poor never have the opportunity even to talk to an attorney while handling legal concerns.[2]
There is some type of pro bono activity in every county in the state; each county's approach to pro bono is unique. Please check out the County Pro Bono Activities and Other Pro Bono Resources area to find out what is happening in a particular county.
The Disciplinary Board of the Supreme Court of Pennsylvania summarized a lawyer's pro bono duty in its February 2011 "Attorney E-Newsletter."
[1] Pro Bono Awards were started in 1988. The PBA's Task Force on the Delivery of Legal Services to the Needy under Joseph H. Jones issued its seminal report in 1989 after extensive study, conferences and continuing legal education classes were conducted during the 1990s, and the PBA's Delivery of Legal Services to the Needy Task Force II started its work in 1998. PBA Committees did outreach and created educational materials, including pamphlets on various legal matters and videos promoting access to justice, and PBA staffers had pro bono duty assignments.
[2] The Pennsylvania Legal Assistance Network (PLAN) estimates that only one in five poverty level persons with legal issues ever sees an attorney and PLAN surveys show that half of the eligible clients who go to a legal aid office in Pennsylvania are turned away because the local offices, even with pro bono support, do not have the resources to help them.