Pennsylvania Legal Aid Network (PLAN)
AOPC Report on Self-Represented Litigants, Aug. 26, 2013
PAProbono.net: This is the online legal community that provides information and resources for pro bono attorneys, legal aid attorneys, public defenders, and other legal advocates interested in increasing access to justice.
PALawHELP.org: Online Guide to Legal Information and Legal Services in Pennsylvania.
Wills for Heroes
A program co-sponsored by the Pennsylvania Bar Association's Young Lawyers Division, "Wills for Heroes" provides free basic estate planning documents to first responders in Pennsylvania. As of January 2013, the program provided estate documents for more than 10,000 persons, making it the largest pro bono program sponsored by the PBA. Click here for more information on the program. In the photo below, PBA Pro Bono Coordinator David Trevaskis, with Katherine Atkinson, Ballard Spahr summer associate, and Matt Gutt, Exelon assistant general counsel, participate at a Pennsylvania State Police "Wills for Heroes" event in 2012.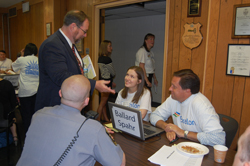 ABA Standing Committee on Pro Bono & Public Service
ABA Center for Pro Bono Exchange Blog
The Legal Services Corporation, America's Partner for Equal Justice