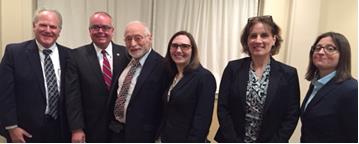 PBA Pro Bono Awards Presented to Berks County Lawyers, Oct. 27, 2015
PBA Pro Bono Awards were presented during the Berks County Bar Association (BCBA) Pro Bono Celebration/CLE Seminar on Oct. 27. Recipients Bridget Cambria, Carol Anne Donohoe and Jacquelyn M. Kline were recognized for their legal work in support of mothers and children seeking asylum in the Berks County Residential Center. Pictured above, from left, are BCBA President Jesse L. Pleet, PBA President William H. Pugh V, keynote speaker Edgar Cahn, Kline, Donohoe and Cambria.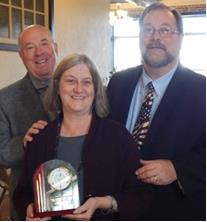 PBA Pro Bono Award Presented to Franklin County Lawyer Hoff, Oct. 26, 2015
The Franklin County Bar Association celebrated the services of attorneys who donate their time providing civil legal services to low-income individuals and families in Franklin County during the FCBA Pro Bono Luncheon in Chambersburg, Oct. 26. Shown above, is 2015 PBA Pro Bono Award recipient Deborah K. Hoff, with David K. Trevaskis, PBA pro bono coordinator, right, and Forest N. Myers, of Shippensburg, a PBA past president. Read the news release, with more photos.
PBA Pro Bono Awards Presentations, Photos in Allegheny County, Summer 2015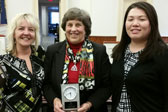 Ann B. Wood Receives PBA Pro Bono Award for Volunteerism, March 16, 2015
Each year the PBA presents Pro Bono Awards to attorneys who work with local legal aid organizations to increase access to justice for our most vulnerable populations. Ann B. Wood of the law firm of Bell, Silberblatt and Wood in Clearfield was presented with a Pro Bono Award at the Clearfield County Bar Association's meeting on March 16, 2015. The award recognizes Wood for donating countless hours of legal services to nearly 400 low-income residents since 1975. Shown with Wood at the award presentation are Kathy J. Cella, MidPenn Legal Services pro bono coordinator, and Alicia Merrill, MidPenn Clearfield staff attorney,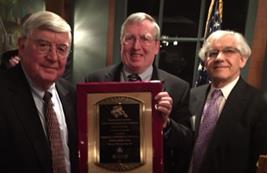 Judge Hess Receives Castille Award, Jan. 22, 2015
Cumberland County President Judge Kevin A. Hess was honored with the presentation of the 2015 Chief Justice Ronald D. Castille Award at the annual meeting of the Cumberland County Bar Association, Jan. 22. The award, previously called the Judges Award, has been renamed in recognition of the former chief justice of Pennsylvania. It is presented annually to a judge selected by the PBA Legal Service to the Public Committee for his or her exceptional contributions to improving civil legal aid in the commonwealth. Hess received the award for his work improving legal services to those in need. Shown in the presentation photo above are, from left, Judge Hess, PBA President Francis X. O'Connor and Samuel W. Milkes, executive director of the Pennsylvania Legal Aid Network.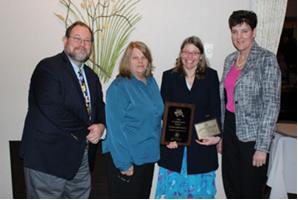 Lycoming County's Kathleen Raker Receives PBA Pro Bono and Equal Justice Awards, Outstanding Law Firm Achievement Awards Also Presented, Jan. 12, 2015
David Trevaskis, PBA pro bono coordinator (far left), presented Lycoming County attorney Kathleen Raker (second from right) with a PBA Pro Bono Award for 2015. North Penn Legal Services Executive Director Victoria Coyle (far right) and Williamsport Office Manager Danna Rich-Collins joined in the presentation. Read more about the event.
January 2015 Announcement by PBA President Francis X. O'Connor Opening the Awards Nomination Period
2015 Pro Bono Award Nomination Form
Past PBA Pro Bono Award Winners
Ernico Award Information and Past Winners