PBA Bar Leadership Institute Class of 2012-2013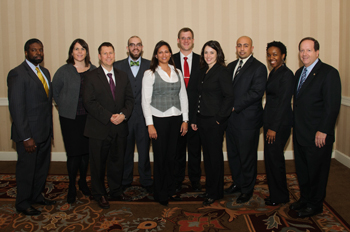 On June 8, 2012, the PBA announced the 10 members of the Bar Leadership Institute class of 2012-2013. Selected from a field of 38 candidates, the class members are listed below along with the names of their firms or agencies.
Desiree Brougher, Reilly Wolfson Sheffey Schrum & Lundberg LLP
Joshua Camson, Washington County Court of Common Pleas
Charece Collins, Weber Gallagher Simpson Stapleton Fires & Newby LLP
Ashley Grimm, Pennsylvania Immigration Resource Center
Mary Beth Hughes, Kane Pugh Knoell Troy & Kramer
Jonathan Koltash, Office of General Counsel, Pennsylvania Department of Labor and Industry
Richard Lupinsky, Blair County Court of Common Pleas
Keisha Parker, Campbell Campbell Edwards & Conroy P.C.
Nego Pile, Heckert Bikin & Pile
Eid Qaqish, Franklin County Court of Common Pleas