PBA Bar Leadership Institute Class of 2011-2012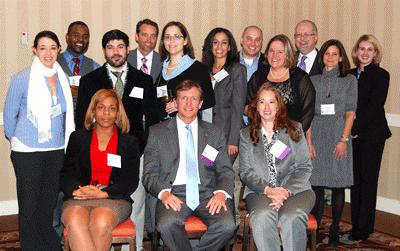 Members of the 2011-12 PBA Bar Leadership Institute (BLI) class attended a series of fall 2011 meetings and events in Harrisburg, including the PBA Board of Governors' meeting and the PBA House of Delegates' meeting, to learn about the association's governance. The main goal of the BLI is to prepare young lawyers for future leadership opportunities within the PBA. Current class members are pictured above with PBA President Matthew J. Creme Jr. and Mary E. Schellhammer and Paul C. Troy, co-chairs of the BLI Committee. Recruitment of the next BLI class begins in early spring. For more information, check here on the BLI webpage and contact the PBA's Susan Etter at susan.etter@pabar.org.
This year's class, selected from a field of 39 candidates, includes the following participants:
Lars H. Anderson, Hourigan Kluger & Quinn P.C., Kingston
Roy L. Galloway III, Law Office of Roy Galloway L.L.C., Harrisburg
Samara Gomez, Pennsylvania Housing Finance Agency, Harrisburg
Louis J. Kroeck IV, Anstandig, McDyer and Yurcon P.C., Pittsburgh
Melissa M. Leininger, Schmidt Kramer P.C., Harrisburg
Jill Kelly McComsey, Seidel Cohen Hof & Reid L.L.C., Bethlehem
Tyra Oliver, Allegheny County District Attorney's Office, Pittsburgh
Megan Riesmeyer, Penn State Dickinson School of Law, Carlisle
Gerald L. Shoemaker, Hangley Aronchick Segal & Pudlin, Norristown
Lauren L. Sorrentino, Momjian Anderer L.L.C., Philadelphia
Alison P. Wasserman, Dimmich & Dinkelacker P.C., Orefield
BLI Class of 2011-2012 Raises Funds for Local Legal Services Programs
Bar Leadership Institute class members have organized several fundraising events during spring and summer 2012 to help their local legal services programs.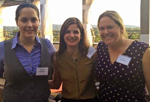 North Penn Legal Services 'Raise a Glass to Justice' Benefit: A benefit and awareness event in support of North Penn Legal Services was organized by Alison Wasserman, Lauren Sorrentino and Jill Kelly McComsey, PBA Bar Leadership Institute alumni. More than 150 local legal professionals turned out in support of the event, which was held Aug. 2, 2012, at Melt in the Promenade Shops in Center Valley. It was a huge success.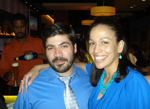 Happy Hour Supports KidsVoice: Lou Kroeck and Tyra Oliver organized a happy hour event for KidsVoice, a full-service advocacy organization in Pittsburgh that provides the services every abused, abandoned, voiceless and vulnerable child deserves.
Arooga's Events for MidPenn Legal Services: In April Melissa Leininger and Samara Gomez held events at all locations of Arooga's, a local hot spot for wings and sports. Arooga's donated 15 percent of each guest's check when they presented a certificate stating they were there to support the MidPenn Legal Services event.
Class Members, Luzerne County YLD Support North Penn Legal Services: Lars Anderson arranged a guest/celebrity bartending event at Senunas' Bar & Grille in Wilkes-Barre in April. The Luzerne County YLD helped promote and organize the event and Senunas' provided free food and items to be raffled, with proceeds donated to North Penn Legal Services.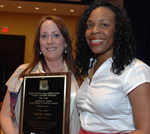 Past BLI Class Member Samara Gomez Receives YLD Excellence in Service Award
The PBA Young Lawyers Division presented its 2012 Michael K. Smith Excellence in Service Award to Samara A. Gomez of Harrisburg during the PBA Annual Meeting, May 10, 2102, in Lancaster. Gomez was a member of the PBA's Bar Leadership Institute class of 2011-2012. The award is named in memory of a young Philadelphia lawyer committed to providing legal services for low-income people and to offering law-related educational programs to students. It is presented to a Pennsylvania young lawyer who, through his or her exemplary personal and professional conduct, reminds lawyers of their professional and community responsibilities. Read more about the award.