BLI Goal: Help Develop the Next Generation of PBA Leaders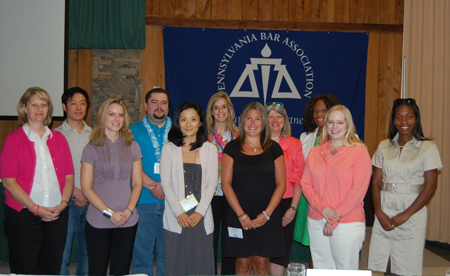 front row: Melissa Shirey, Laura Evans, Joo Park, Sarinia Feinman, Traci Naugle, Guerline Laurore back row: Phil Yoon, Kevin Taccino, Sara Flasher, PBA President Gretchen Mundorff, Lisa Watson missing: Bernard John and BLI Co-chairs, Mary Schellhammer and Paul Troy
In 2010, PBA President Gretchen Mundorff has re-launched the Bar Leadership Institute to strengthen the PBA's ongoing efforts to recruit and develop leaders for the association. The BLI was originally developed by Art Piccone in 1995-96 during his year as PBA president. Mundorff, who was the first chair of the institute, is a longtime proponent of leadership development and mentoring programs.
"We are going to make every effort to identify and prepare the best young lawyers who are representative of the diversity within the PBA membership to take leadership positions," Mundorff said.
This year's class, selected from a field of 34 candidates, includes the following participants:

Laura Evans - Eckert Seamans Cherin & Mellott L.L.C., Harrisburg
Sarinia Feinman - Vetrano & Vetrano, King of Prussia
Sara Flasher - Administrative Law Judge, Department of Public Welfare, Pittsburgh
Bernard John - John & John, Uniontown
Guerline Laurore - Law Office of Guerline L. Laurore P.C., Coudersport
Traci Naugle - Sullivan, Forr, Stokan, Huff & Kormanski, Altoona
Joo Y. Park - High Swartz L.L.P., Norristown
Melissa H. Shirey - The Family Law Group L.L.C., Erie
Kevin Taccino - Arnoult, Taccino & Hamilton, Chambersburg
Lisa Watson - Department of Public Welfare, Harrisburg
Phil Yoon - Superior Court of Pennsylvania, Philadelphia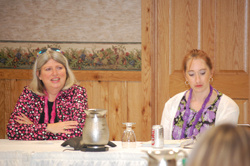 July 30, 2010 - PBA President Gretchen Mundorff and BLI Co-chair Mary Schellhammer address the 2010-2011 Bar Leadership Institute participants during the PBA YLD Summer Meeting in Seven Springs.