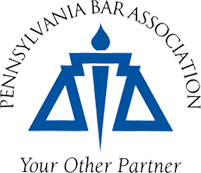 Ethics of Pro Bono Traveling Roadshow
During the past year, an innovative project, the Ethics of Pro Bono Traveling Roadshow, was developed as an interactive continuing legal education (CLE) program that focuses on the concerns of private attorneys involved in civil legal aid. Working under the auspices of the PBA Legal Services to the Public Committee, in close cooperation with the umbrella organization for statewide civil legal aid, Pennsylvania Legal Services (PLS), the program brings together groups of attorneys to explore a series of hypotheticals that raise ethical concerns for the pro bono attorney. Each group participating in the CLE is divided into small groups that are assigned one hypothetical to explore using the Pennsylvania Rules of Professional Conduct. A spokesperson for each small group then reports to a panel of experts, which generally includes local legal services professionals, PBA Pro Bono Coordinator David Keller Trevaskis and PLS Executive Director Sam Milkes. The panel of experts also interacts with the small groups during their discussions of the hypotheticals, making sure key issues of pro bono representation are covered. The hypotheticals can be tailored to local concerns.
This neutral forum brings together private and poverty lawyers for discussions that often move beyond the assigned topics into areas such as the overwhelming need for pro bono support to help the poor and why such needs are not being met. This forum is especially needed in Pennsylvania, where the recent government-directed merger of local legal services programs into vast regional entities has, in many areas, damaged relationships between possible pro bono providers and the legal services community.
The CLE session has been offered at no cost or for a reduced fee by sponsoring local bar associations to encourage attorneys to consider their pro bono obligation. Some locations provide the CLE for free if the attorney signs up to take a pro bono case.
The first Ethics of Pro Bono Traveling Roadshow was held last March in Washington, Pa. Additional programs have been held in Hershey and Lancaster. Future programs are scheduled for Stroudsburg, Harrisburg, York and Philadelphia.