Lebanon County Bar Association Name Pro Bono Award for Warner, November 2013,
At the annual meeting of the Lebanon County Bar Association in November 2013, it was the unanimous vote of the membership to name the annual PBA Pro Bono Recognition Award the William H. G. Warner Pro Bono Attorney Award, honoring Warner's commitment to legal services and to working to make pro bono legal service what it is today in Lebanon County. Read some of Warner's documents illustrating his commitment to the field.
Lackawanna to Recognize Pro Bono Volunteers, Nov. 19, 2013

Andrew Alston Wins First Law Student Pro Bono Partner Award, Nov. 1, 2013
The PBA presented Andrew Alston its first Law Student Pro Bono Partner Award on Nov. 1, 2013, in a special ceremony at the Defender Association of Philadelphia. Alston spent six years with the association - starting as a volunteer, then as a paralegal and now as an assistant public defender, having now graduated from Temple University's James E. Beasley School of Law and recently passing the bar Chief Defender Ellen Greenlee, with Alston in the photo above, presented the award along with PBA Pro Bono Coordinator David K. Trevaskis. Alston's nomination noted that "his whole reason for going to law school was to serve the most needy of our fellow Pennsylvanians," a task he has been working on since he was a college student. The range of Alston's activities as a law student, from programs in the Philadelphia Traffic to work with the U.S. District Court for the Eastern District of Pennsylvania, show his commitment and underscore the significant contribution law students can make to accessing justice for the poor. Alston has worked with ex-offenders re-entering society and with veterans facing a wide variety of legal issues. Those programs continue to thrive with volunteer work from area law students from Temple, Drexel, and Rutgers. Andrew has also volunteered for public education programs run by both the Philadelphia and Pennsylvania Bar associations. At a time when we are celebrating the 50th anniversary of Gideon but finding much more needs to be done on both the criminal and civil sides of the law to realize the promise of that case for access to justice for all, Alston's example is an inspiring rebuttal to the cynics who claim there is nothing we can do to change the picture. Congratulations to a great inaugural pick for this award!
2013 Pro Bono Award to Leslie Puida, PBA President Myers Remarks Featured at the Bucks County Pro Bono Nonprofit Community Vendor Fair and Reception, Oct. 30, 2013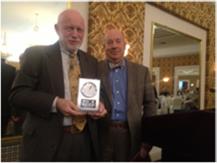 Gray Honored with PBA Pro Bono Award at Reading Event, Oct. 23, 2013
Sharon L. Gray was recognized for her pro bono efforts with a PBA 2013 Pro Bono Award during the Berks County Bar Association's Pro Bono Awards Ceremony in Reading, Oct. 23, 2013, with PBA President Forest N. Myers on hand. Shown above, Frank Mulligan, left, a law firm partner of Gray's, accepts the award on her behalf from Myers. Read Gray's pro bono profile. Read Myers' remarks.
LSC Board Honors Pennsylvania Programs at Pittsburgh Meeting, Oct. 20-22, 2013
The national Legal Services Corp. (LSC) board met in Pittsburgh Oct. 20-22, with the program including honors for LSC programs from across Pennsylvania during the Pro Bono Awards Reception on Oct. 21. The reception was held at the K&L Gates law firm, with speakers including former Pennsylvania Governor and U.S. Attorney General Dick Thornburgh and U.S. Rep. Chaka Fattah. Also on Oct. 21: In the morning there were two distinguished panels discussing the importance of civil legal aid to the orderly functioning of the civil justice system, followed by a luncheon. The panels were held in the Pennsylvania Supreme Court courtroom. The luncheon was held at the Renaissance Hotel. Click here for photos from the event. Following are the pro bono honorees:

James P. DeAngelo, nominated by MidPenn Legal Services Inc.
Mary R. Bates, nominated by Southwestern Pennsylvania Legal Services Inc.
Ronald R. Bolig, nominated by Legal Aid of Southeastern Pennsylvania
Gregory L. Heidt, nominated by Northwestern Legal Services
Pittsburgh Pro Bono Partnership, nominated by Neighborhood Legal Services Association
Rieders, Travis, Humphrey, Harris, Waters and Waffenschmidt, nominated by North Penn Legal Services Inc.
Joseph A. Sullivan, nominated by Philadelphia Legal Assistance Center
Westmoreland Legal Foundation, nominated by Laurel Legal Services Inc.
Krone Is 2013 PBA Pro Bono Award Winner in Dauphin County
Stephen R. Krone is the 2013 PBA Pro Bono Award winner of Dauphin County. A longtime legal services attorney, Krone has continued upon retirement to use his talents in helping the poor, continuing to come to the MidPenn Legal Services (MLS) office to work on pro bono cases and serve as a mentor to less seasoned attorneys. At a time when legal aid programs are closing offices and losing staff, Krone provides MLS with an invaluable resource. In 2007 Krone was honored as the PBA's Civil Legal Aid Attorney of the Year for dedicating more than 35 years of his career to public service at MLS and its predecessor, Dauphin County Legal Services, for using his extensive experience in many areas of the law, particularly housing, Social Security and child support, to help low-income persons, and for mentoring many new lawyers at MidPenn Legal Services. Krone is shown below upon receiving his award at the Dauphin County Bar Association, Sept. 26, 2013, with Ashley Gabrielle, MLS staff attorney, and Sally Heffelfinger, MLS secretary.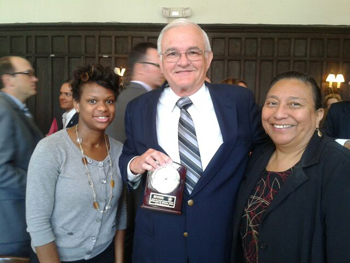 Past PBA Pro Bono Award Winners
Ernico Award Information and Past Winners