Lawrence J. Valeriano Jr. of Berks County Receives 2014 Pro Bono Award, November 2014
Read Valeriano's remarks.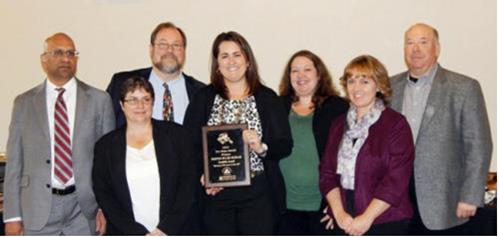 Franklin County Bar Association Celebrates Attorneys Providing Civil Legal Services to Individuals, Families, Oct. 29, 2014
The Franklin County Bar Association Pro Bono Luncheon was held in Chambersburg. Clinton Barkdoll, FCBA president, welcomed area attorneys and thanked the attorneys and staff members who work for legal service agencies in Franklin County, along with the various members of the FCBA who provide pro bono services. "You are the unsung heroes of our legal system and we sincerely thank you for your service and excellent work," said Barkdoll. "Franklin County provides a level of legal services that is admired throughout Pennsylvania. This is something all of us should take great pride in." Mahesh Rao, chair of the Franklin County Bar Association's Pro Bono Committee, shared that pro bono services had been provided for Child Custody, Divorce, Child Support, Landlord Tenant, Wills and Estates, Bankruptcy, Protection from Abuse, Child Dependency, and Business Planning. This year's luncheon honored Kristin Diller Nicklas, of Nicklas Law Offices. Nicklas received the 2014 Pennsylvania Bar Association Pro Bono Award from David Trevaskis, the Pro Bono Coordinator for the Pennsylvania Bar Association. In his remarks, Trevaskis noted that Nicklas has accepted pro bono cases from all three programs this year and does additional pro bono work outside of the programs. She has accepted a very trying custody case this past year and helped the WIN program during a transition phase. Her willingness to help has resulted in clients obtaining representation when they otherwise would have had to represent themselves. Trevaskis also commended the splendid coordination between the three agencies in Franklin County that offer pro bono services. Franklin County Legal Services, MidPenn Legal Services and the Law Offices of Women in Need work together to provide much needed legal assistance. The yearly luncheon is held in conjunction with the Pennsylvania Bar Association Pro Bono Week. This week is an opportunity to highlight the difference lawyers make in their communities and to acknowledge the partnerships that form the basis for many successful pro bono efforts. Pictured above, left to right, are Mahesh Rao, pro bono committee chair; (front) Carrie Bowmaster, managing attorney of MidPenn Legal Services; David Trevaskis, PBA pro bono coordinator; Kristin Diller Nicklas of Nicklas Law Office; Meghann Karasic, managing attorney of the law offices of Women in Need; Gloria Keener, executive director of Franklin County Legal Services; and Forest N. Myers, PBA immediate past president.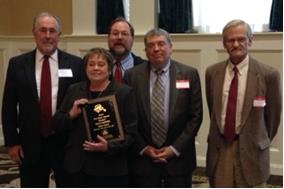 Tracy Sheffer Receives 2014 Pro Bono Award, Oct. 31, 2014
Adams County 2104 Pennsylvania Bar Association Pro Bono Award winner Tracy Sheffer is pictured above with (from left) Pennsylvania Supreme Court Justice J. Michael Eakin, PBA Pro Bono Coordinator David K. Trevaskis, Adams County Bar President Harold Eastman and MidPenn Legal Services local attorney John Perry. Sheffer was honored at the inaugural Adams County Bench/Bar Conference, Oct. 31, 2014, for consistently accepting "pro bono referrals. In each instance, she has gone to court with the client and helped them resolve their problems. Once she worked for five years on a case to help the client resolve all of her issues. "
2014 PBA Pro Bono Awards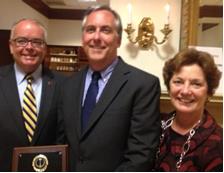 Daniel J. Clifford Receives 2014 Pro Bono Award, Sept. 23, 2014
Montgomery County lawyers and judges celebrated the pro bono partnership of the local bar, the courts, private practice attorneys and legal aid professionals that help the neediest among us have access to justice in September as noted family-law attorney Daniel J. Clifford was honored with a 2014 Pennsylvania Bar Association Pro Bono Award. William H. Pugh V, PBA president-elect, presented Clifford with his award and called on all lawyers to follow his positive example of giving back to the community. Pictured above are Pugh, Clifford and Nancy Paul, Montgomery Bar Association executive director.
January 2014 Announcement by PBA President Forest N. Myers Opening the Awards Nomination Period
2014 Pro Bono Award Nomination Form
Past PBA Pro Bono Award Winners
Ernico Award Information and Past Winners