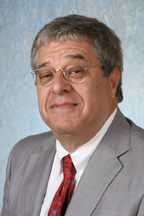 HARRISBURG (May 9, 2016) - The Pennsylvania Bar Foundation will present the 2016 Louis J. Goffman Award to David J. Millstein of Greensburg on May 12 during the Pennsylvania Bar Association (PBA) Annual Meeting Awards Luncheon in Hershey.
The Goffman Award is named for a late PBA president and recognizes individuals and organizations committed to outstanding pro bono service.
Since October 2013, Millstein has served as the voluntary director of the Westmoreland Bar Foundation's Pro Bono Program. During that time, he has overseen the Pro Bono Custody Attorney Program, has been integral to the launch of an in-house divorce program, has met with clients in emergency situations, and has overseen the expansion of the program's office space. Last year, the Pro Bono Program handled more than 600 cases.
Millstein began his career in Pittsburgh, where he worked for one year at the Federal Communications Commission and one year with the law firm of Hollinshead and Mendelson. He returned to his native Greensburg and opened a law practice with Ray Hoehler, his Hollinshead and Mendelson associate. They remained law partners for eight years, when Millstein decided to become a sole practitioner. Fifteen years later, he joined with Jackie Knupp to form Millstein and Knupp, his current firm.
Millstein has worked as an American Civil Liberties Union lawyer; chaired the Pittsburgh Legal Committee; taught as an adjunct professor at the University of Pittsburgh at Greensburg and at Duquesne University, where he founded the Hugo L. Black Civil Rights Law Clinic; and sat on the Board of the Westmoreland Bar Foundation.
Millstein holds degrees from the University of Pennsylvania and the Duquesne University School of Law.
The Pennsylvania Bar Foundation, the charitable affiliate of the Pennsylvania Bar Association, improves the public's understanding of the law and its appreciation of democracy and strives to ensure that citizens, particularly Pennsylvania's most vulnerable, have full access to our legal system. The foundation accomplishes its mission by making grants, seeking financial support from individuals and organizations both within and outside of the legal community, and encouraging bar members to donate their time, talent and expertise in service to the public.