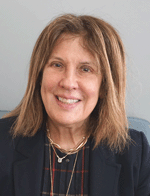 HARRISBURG (April 21, 2016) - The Pennsylvania Bar Association (PBA) Alternative Dispute Resolution Committee will present its Sir Francis Bacon Alternative Dispute Resolution Award to Judith Meyer of the Haverford-based firm JPMeyer Associates/Commercial Dispute Solutions during the association's Annual Meeting Awards Luncheon on May 12 in Hershey.
The Sir Francis Bacon Award recognizes an individual who has made a significant impact in bringing mediation and other forms of dispute resolution to Pennsylvania. Sir Francis Bacon (1561-1626) was a Renaissance writer who served British monarchs in a legal capacity as knight, attorney general and solicitor. He authored the essay, "Of Negotiating," which featured the frequently-quoted line, "It is generally better to deal by speech than by letter, and by the mediation of a third than by a man's self."
Meyer has resolved more than 2,000 commercial mediations and arbitrations involving contract, environmental, employment, construction, tort and personal injury, professional liability, business and commercial, employment, environmental, intellectual property and insurance disputes.
She has served as a mediator or arbitrator on the September 11 Victims' Compensation Fund of 2001; 2012 Hurricane Sandy Claims; American Arbitration Association Construction, Commercial, Complex Claims and Employment Panels; International Institute for Conflict Prevention and Resolution; Equal Employment Opportunity Commission (EEOC) Mediation Services Panel; Financial Industry Regulatory Authority (FINRA); American Health Lawyers' Association (AHLA); U.S. International Commerce Commission; U.S. Court of Appeals for the Federal Circuit; Bankruptcy Court for the District of Delaware; Maryland District Court; New Jersey Superior Court; Philadelphia Court of Common Pleas; and Philadelphia Commerce Court.
She serves as a pro bono mediator for Arts + Business Council of Philadelphia and the Philadelphia Human Relations Commission.
Meyer is a member of the PBA Alternative Dispute Resolution Committee and the American Bar Association Alternative Dispute Resolution Section.
She is a member of the Pennsylvania chapter of the National Academy of Distinguished Neutrals. She is a Distinguished Fellow in the International Academy of Mediators, a Fellow of the London-based Chartered Institute of Arbitrators, a Fellow in the American College of Arbitrators, a member of the American College of E-Neutrals, and a member of the Academy of Court Appointed Masters. She is certified by the International Mediation Institute and serves as the co-chair of its Independent Standards Commission.
A former litigation partner in California and a founder of her own litigation firm in Beverly Hills, Meyer was a co-founder of the Philadelphia JAMS Dispute Resolution Office in 2004.
Meyer has written extensively about mediation and arbitration, has spoken at numerous professional conferences, and has taught at Cornell Law School, the University of Pennsylvania, Penn State's Dickinson Law, Temple University Beasley School of Law, and Rutgers Law School.
Meyer holds degrees from Barnard College and Cornell Law School.
Founded in 1895, the Pennsylvania Bar Association strives to promote justice, professional excellence and respect for the law; improve public understanding of the legal system; facilitate access to legal services; and serve the 27,000 lawyers who are members of the association.