2009 K-College Law Day Lesson Plan Guide
By the People, For the People

Message from the President of the Pennsylvania Bar Association
C. Dale McClain
Planning
What Can We Do for Law Day?
Ideas to help you prepare to talk to a group of students (MS Word)
Getting Started: Tips for Judges and Lawyers
Involving the Media and Legal Community
Effectively Using Judges and Lawyers as Community Resources in Your Classroom: A Guide for Teachers
Lesson Planning Ideas for Judges and Lawyers
Getting Started: The Importance of Civic Learning
Sample Media Advisory
Sample News Release

Activities
Word Find Student Handout
Word Find Answer Sheet
Lessons for All Grade Levels
Mindwalk - "Ten Things I'd Rather Be Doing" (and other variations)
No Vehicles in the Park, No Animals in the Library and No Hats in the Classroom
Gettysburg Address
Elementary Lessons
Mock Trial - The Case of the Missing Puppy
The lesson we will be using at the PBA for our Law Day Celebration is a mock trial of the "Case of the Missing Puppy." We will be acting out this mock trial with third, fourth and fifth graders at two Chester County Schools in May. It's a great case with very relatable, real-life situations for the kids to consider and discuss. It is going to be a lot of fun and provides a wonderful opportunity to talk to students about the differences between criminal trials and civil trials. The case was originally developed by a third grade class in New Jersey and received an honorable mention in the New Jersey State Bar Foundation's Law Fair Competition in 1996. We have made some modifications to the lesson and have posted it here for your use.
Grades K-3: Due Process Freedoms, Seeking Facts to Solve Mysteries
Grades K-3: Due Process Freedoms, People Who Make Courts Work
Grades 4-6 Humpty Dumpty Mock Trial (Grades 4-6)
Mock Trial - B.B.Wolf vs. Curly Pig
This mock trial lesson was developed by the Western District of North Carolina and is part of their new interactive web site, Kids Court, designed just for kids.
Middle School – High School
USA vs. Smith, a mock trial in a Federal U.S. District Court involving felony possession of drugs. This mock trial lesson and script was developed by the Western District of North Carolina and is part of their new interactive web site, Kids Court, designed just for kids.
High School Lessons
Why Law Day?
A Fair and Impartial Trial? You decide...
This lesson uses the Carey v. Musladin case which looks at fair trial and first amendment issues stemming from the family of a murder victim wearing buttons picturing their relative during the trial for his murder. The case was decided by the U.S. Supreme Court and has been selected for the 2008-2009 Open Doors to the Federal Courts program. It has been used with students and teachers from across the nation and has stimulated the most lively courtroom interactions and enthusiastic evaluations of any Open Doors program to date. Anyone may use this lesson for their Law Day program with high school students. The PBA will be using it this year in a variety of programs, including programs through the Eastern District Court. It can be used in a classroom setting by a teacher— and a local attorney or judge could be invited into the classroom to assist with the lesson.
Stepping Out
This lawyer-led classroom program provides important legal advice to graduating seniors on important issues such as apartment rentals, car purchases, driving under the influence, marriage and divorce.
Other High School Lesson Ideas

College-Level Lessons
College Level Mock Trials
Using Mock Trials as a Teaching Tool
Mock trials help students become familiar with the role of the courts in solving disputes. They are introduced to court procedures and they develop an understanding of the various roles and people involved in the judicial system. Mock trials also provide a fun and engaging method for students to practice critical thinking and communication skills.
Mock trials also provide an excellent opportunity to invite legal resource people into your classroom to assist with the lesson and mock trial. Please contact your local county bar association or the Pennsylvania Bar Association for more information.
A recent example of how local judges, lawyers, the PBA and other local law enforcement personnel worked with elementary students at Swarthmore Rutledge School in Delaware County to enact a mock trial of Goldilocks.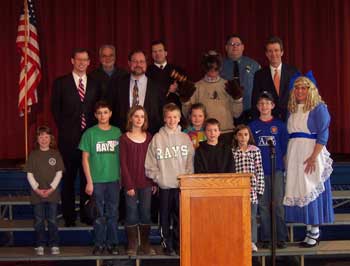 A group of parents, local leaders and the Pennsylvania Bar Association (PBA) presented the "Trial of Goldilocks" at Swarthmore Rutledge School on Friday, March 13, 2009. This mock trial program enhanced students understanding of the judicial system by presenting the elements of a criminal trial, with students serving as jurors. Pictured here are (top row left to right) David Caputo (prosecutor), SRS Principal Gary Davis, David Trevaskis (bailiff and PBA representative), Federal Magistrate Judge Phil Restrepo (judge), Mayor Eck Gerner (Papa Bear), Officer Ed Kline (officer/forest ranger), John Savoth (defense attorney), (bottom row) 8 students, and Lori Foglio (Goldilocks).
Mini Mock Trial Manual for Teachers from the Minnesota Center for Community Legal Education. This is a 66-page manual to help teachers use mock trials in grades 5-12. Mock trials can be done over the course of two class periods.
Mock Trial Activities for Grades K-2 from the New Jersey State Bar Foundation
Mock Trial Exercises for Grades 3-6 from the New Jersey State Bar Foundation
Mock Trial Exercises for Grades 7-8 from the New Jersey State Bar Foundation
The Pied Piper vs. The City of Hamelin
A Resource for Judges to Use in the Classroom for Law Day (or any day)
he AOPC, Administrative Office of the Pennsylvania Courts, has developed a video titled "Pennsylvania's Courts: A Video Introduction." The video provides an excellent overview of the role of the courts and how they work to protect citizens' rights.
Suggested lessons to use with the DVD
The AOPC has a variety of resources and information you may want to reference and use to develop materials or handouts for students. This information can be found on the AOPC web site at http://www.aopc.org/Links/Public/
David Trevaskis at the Pennsylvania Bar Association has also developed some suggestions that judges can use with the DVD in a classroom lesson. Click here to access.
Lessons Referenced by David Trevaskis for Use with the Courts DVD
Mindwalk - "Ten Things I'd Rather Be Doing" (and other variations)
No Vehicles in the Park, No Animals in the Library and No Hats in the Classroom