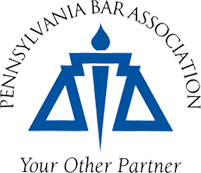 Minority Bar Committee - 2004 Law Day Program
PBA MINORITY BAR COMMITTEE CELEBRATES LAW DAY

- Local minority attorneys to visit Pittsburgh high schools -
The Pennsylvania Bar Association Minority Bar Committee will sponsor its annual Law Day celebration on Thursday, Feb. 26, in Pittsburgh by having committee members visit students at Sterett Classical Academy, Oliver High School, Peabody High School, Taylor Allderdice High School and Schenley High School.
Each year, the Minority Bar Committee hosts its annual Law Day program to encourage minority attorneys to talk with high school students about the law. The Law Day celebration rotates among Philadelphia, Pittsburgh and Harrisburg.
A networking reception will take place at 5:30 p.m. at Kirkpatrick & Lockhart. For more information, contact Committees Coordinator Louann Bell at 1-800-932-0311, Ext. 2276, or by e-mail at louann.bell@pabar.org.