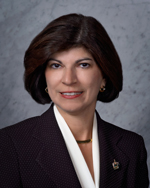 Anne N. John of Mount Lebanon, a private practitioner with the Uniontown law firm of John & John, is serving a second one-year term as PBA secretary.
John served as zone six governor on the PBA Board of Governors representing Fayette, Greene, Washington and Westmoreland county lawyers.
John is the chair of the PBA Leadership Recruitment and Development Committee and co-chair of the PBA Shale Energy Law Committee. A member of the PBA Review and Certifying Board, she is chair of the PBA House of Delegates Draft Committee. A member of the PBA Diversity Team since its inception, she also served on the PBA Diversity Task Force and the Women in the Profession Committee Executive Council. John is currently vice president of the Fayette County Bar Association, for which she served as secretary from 2006 until 2013.
Active in the community, John is a member of the board of directors of Advantage Credit Counseling Services Inc. She is a former member of the board of directors of the Better Business Bureau of Western Pennsylvania Inc.
John is a graduate of Dickinson College and the Dickinson School of Law.