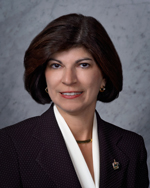 Anne N. John
Anne N. John, a private practitioner in Uniontown, is the PBA secretary.
John is a former zone six governor on the PBA Board of Governors representing Fayette, Greene, Washington and Westmoreland county lawyers.
John is a member of the PBA Review and Certifying Board, the Women in the Profession Committee Executive Council and co-chair of its awards committee, the PBA Diversity Team, and the PBA Judicial Administration Committee. She also serves as co-vice chair of the PBA Leadership Recruitment and Development Committee. She was a member of the PBA Diversity Task Force and the PBA Professionalism and Planning committees. She is a member of the PBA Business Law, Solo and Small Firm, and Real Property, Probate and Trust Law sections. John is currently the secretary of the Fayette County Bar Association, where she served on its board of directors for several terms prior to her current service.
She is a member of the board of directors of Advantage Credit Counseling Service and a past member of the board of directors of the Better Business Bureau of Western Pennsylvania Inc. She also has served on the Ford Consumer Appeals Board.
She has volunteered her time with charitable organizations, including the American Heart Association and the Mt. Lebanon Aqua Club, and she has sponsored a variety of local youth sports teams. She was recognized for her outstanding leadership and service as the district coordinator of the l989 PBA Mock Trial Competition, and she received recognition for public service by the Fayette County Bar Association in 1992.
John is a graduate of Dickinson College and the Dickinson School of Law.