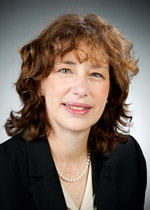 Phyllis Horn Epstein
Phyllis Horn Epstein, a partner in the Philadelphia firm of Epstein, Shapiro & Epstein, P.C., is serving her third one-year term as PBA treasurer.
A past member of the PBA House of Delegates, Epstein has served as co-chair of the PBA Commission on Women and has been a member of the PBA Nominating Committee and the PBA Quality of Life/Balance Committee. Epstein is a past editor of the PBA Commission on Women's official publication, Voices and Views.
Epstein is a member of the American Bar Association's Section on Taxation and has been the editor of the section's newsletter and liaison to the ABA Commission on Women. She is a member of the ABA Committees on Court Procedure and Individual and Family Taxation, of which she is a vice-chair and has been a member of the Tax Section's Public Outreach Task Force. A former member of the ABA Publishing Board of the ABA Law Practice Management Association, she has served on the publications board of the ABA Commission on Women. She is the editor of Beacon, a publication of the Philadelphia Bar Association's Women in the Profession Committee. She is a member of the executive council of the Philadelphia Bar Association's Business Law Section and serves as editor of its section newsletter, The Inside.
A frequent and prominent lecturer on tax matters, Epstein is the author of Women-at-Law: Lessons Learned Along the Pathways to Success published by the ABA Press and a finalist in the ForeWord Magazine's "Book of the Year" competition. She is a contributing author of chapters on taxation to the recent Pennsylvania Bar Institute publication, Issues Affecting LGBT Clients. Ms. Epstein is a contributor to the ABA's publication The Road to Independence (2011) which charts the independent careers of 101 women attorneys. With her husband Earl Epstein, she co-authored contributing chapters on tax liabilities of corporate officers and directors found in Corporate Law Lessons for CEOs (Execsense 2012). In 2010, she was named a Vision 2020 Ambassador to participate in a decade-long national project inspired by the 100th anniversary of the Nineteenth Amendment to the U.S. Constitution granting women the right to vote.
Epstein has been a member of the executive board of the Brandeis Law Society and continues to serve on the steering committee for "Working Together," an independent organization of tax lawyers, accountants and IRS officers. She is a member of the IRS/Practitioner Liaison Committee of Pennsylvania, which meets regularly with representatives of IRS and accounting agencies. She is a frequent invited participant in the U.S. Tax Court Judicial Conference.
She is a graduate of Temple University and the Temple University Beasley School of Law, from which she also received a master of laws in taxation degree.