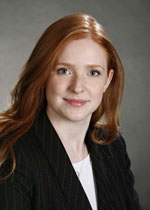 Hope Guy of Pittsburgh, an attorney advisor for the Social Security Administration Office of Adjudication and Review, is the immediate past chair of the PBA YLD.
Guy served two terms as secretary of the PBA YLD and three terms as the PBA YLD representative to the PBA Conference of County Bar Leaders (CCBL) Executive Committee. She also served as the PBA Zone 12 and At-Large co-chair representative to the PBA YLD Executive Committee and as co-coordinator of the PBA Statewide High School Mock Trial Competition in Allegheny County. Guy was a Zone 12 delegate to the PBA House of Delegates and is a member of the PBA Children's Rights Committee.
She is a member of the American Bar Association YLD and an elected member of the Allegheny County Bar Association YLD Executive Council. She is a former secretary of the Clinton County Bar Association and served as an appointed member of the Clinton County Children & Youth Services/Big Brothers Big Sisters Advisory Board.
Guy was a 2009 recipient of the William B. Billock Loan Repayment Assistance Program Award for Public Interest Attorneys and was honored with a pro bono volunteer award by North Penn Legal Services in Lycoming and Clinton counties in 2005. She has volunteered with the Salvation Army's Treasures for Children annual campaign and as a mentor with Big Brothers Big Sisters of America.
Guy is a graduate of the University of Pittsburgh and the Duquesne University School of Law.