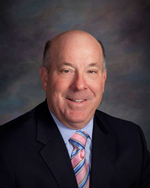 Forest N. Myers, owner of the Law Office of Forest N. Myers, Shippensburg, is PBA vice president.
Myers served from 2007 until 2010 on the PBA Board of Governors as the unit county bar association governor. He has been a PBA zone delegate since 2003 and has served on the PBA Alternative Dispute Resolution Committee and the PBA Client and Community Relations Committee. In addition, Myers is a long-time member of the PBA Unauthorized Practice of Law Committee. He is a former member of the PBA Professionalism Committee and the PBA Real Property Probate and Trust Section's Estate Planning Committee.
Myers is a past president of the Franklin County Bar Association.
Active in his community, Myers was board president of the Shippensburg Area School District from 1983 to 1985. He is a former drive chair of the Shippensburg United Way. He also served as a member of the Shippensburg Park Commission.
Myers is a graduate of Penn State University and the Dickinson School of Law.