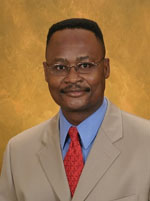 Emmanuel O. Iheukwumere, owner and managing shareholder of Philadelphia's Emmanuel Law Firm LLC, is an At-Large Governor on the Pennsylvania Bar Association Board of Governors representing Pennsylvania minority lawyers.
Iheukwumere has been active in the PBA's Minority Bar Committee, having served as its chair in 2002 - 2004 and as co-chair of its annual conference planning subcommittee in 2001, 2003 and 2004. He also served as co-chair of the nominating subcommittee of the PBA Minority Bar Committee and as a member of the PBA Public Relations Task Force Implementation Committee. He is a member of the PBA Civil and Equal Rights, Community and Public Relations and Health Care Law committees. He received a PBA President's Award for his leadership in coordinating the inaugural Chief Justice Robert N.C. Nix Jr. Symposium on Judicial Independence.
Iheukwumere is a member of the Philadelphia Bar Association and serves on the board of the Philadelphia Lawyer magazine. He also serves on the board of directors of the Philadelphia Trial Lawyers Association. He is a member of the American Association for Justice and The Barristers Association of Philadelphia. He was named a "Pennsylvania Super Lawyer" by his peers in 2005, 2006, 2007 and 2010.
Active in his community, Iheukwumere is an Elder in charge of the Stewardship Committee and the co-chair of the Scholarship Fund Committee of the Presbyterian Church of Willingboro, New Jersey.
He is a summa cum laude graduate of Clarion University. He received his juris doctorate from the Temple University Beasley School of Law, where he currently serves as an adjunct professor.