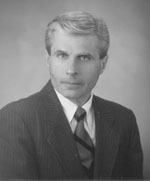 John J. Bagnato, a partner in the Johnstown law firm of Spence, Custer, Saylor, Wolfe & Rose, is the PBA Zone Eight Governor. Bagnato represents lawyers from Bedford, Blair, Cambria, Fulton, Huntingdon, Indiana and Somerset counties.
Bagnato previously served as PBA Zone Eight Governor in 1998 until 2001.A current member of the PBA House of Delegates, Bagnato is a former chair of the PBA Workers' Compensation and continues to serve on its Advisory Council. He is a current member of the Pennsylvania Bar Foundation Board of Directors. He is a past chair of the PBA Specialization Committee and past co-chair of the PBA Health Care Task Force. He was the recipient of the PBA's Irvin Stander Memorial Award for dedication to the practice of workers' compensation law, the Chief Justice John P. Flaherty Award, a PBA Special Recognition Award for his leadership as co-chair of the PBA Health Care Task Force, and a PBA President's Award for his efforts to strengthen the relationship between PBA and its educational arm, the Pennsylvania Bar Institute. He is a past president and honorary director of the PBI. He is a member of the American Bar Association and its Workers' Compensation and Employers Liability Law Committee. He also is a past president of the Cambria County Bar Association.
Active in his community, Bagnato serves on board of directors of the YMCA, of which he was president in 2002 - 2004. He serves as the legal advisor and member of the Continuing Physician Education Committee of the Cambria-Somerset Council for Continuing Education for Health Professionals. He also served on the Governor's Task Force on AIDS, the Pennsylvania Medical Malpractice Arbitration Panel and the Joint State Government Commission Advisory Committee on Medical Professional Liability.
Bagnato is a graduate of Washington and Jefferson College and the Franklin Thomas Backus School of Law of the Case Western Reserve University. He served as a captain in the U.S. Military Airlift Command (MAC) in Vietnam. He has been named a "Pennsylvania Super Lawyer" since 2005 and has been listed in Best Lawyers in America since 2004.